Medical devices functionalized with antimicrobial peptides to counter bacterial co-infections in Covid-19 patients
Project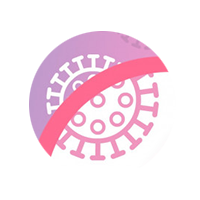 Descrizione:
The project starts from an assessment of the impact that the phenomenon of ICAs (care-related infections) had on the health care system, which was greatly exacerbated during the Covid-19 pandemic crisis. Although these infections were already a major problem in the healthcare environment, during the Covid-19 pandemic, due to the numerous hospitalizations, the situation was greatly exacerbated. Pneumonia is an ICA whose incidence increased during the Covid-19 pandemic because of the intubation that was extremely necessary during that period. Therefore, this infection has been a major clinical problem in the management of patients admitted to intensive and semintensive care units. Our project aims to take up the great lesson that the pandemic left behind, which is to act in a preventive manner with respect to possible emergencies. Therefore, one of the specific goals of the project is to develop an innovative strategy based on the functionalization of biomedical surfaces with novel antimicrobial peptides (AMPs) to develop new and safe medical devices functionalized with antimicrobial molecules (endotracheal tubes). The long-term goal is also to reduce infections associated with prolonged use of medical devices.To achieve these goals, the project relies on the synergy of highly skilled researchers and entrepreneurs.
Project value:
798.000,00 EURO
Main activities/outputs:
Endotracheal tubes functionalized with antimicrobial peptides, preliminary protocols for in vivo analysis.
Partner:
University of Naples Federico II (Italy), CNR – IBBR- NA (Italy)